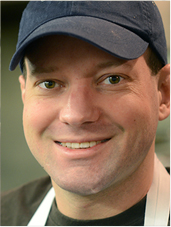 Zach Filbert
Chef de Cuisine
K-State brought Zach Filbert to Manhattan as well. A transplant from Dodge City, Kan., Zach has held numerous leadership roles in kitchens throughout Manhattan. While his culinary career started at Harry's in 1998, he's been routinely sought out for his expertise by several regionally acclaimed restaurants.
In 2011, Zach returned to Harry's as Chef de Cuisine, guiding the culinary team in its daily tasks. He brought an expansive list of cooking experiences and interests while constantly developing the complex set of skills needed in his current position. His personal philosophy of "a day without progress is a day wasted" challenges the team to improve daily.
A lifelong fan of the Kansas City Royals and KU basketball, Zach is often found watching, or even better, attending a local sporting event while enjoying an array of his favorite foods and a few guilty pleasures: sushi followed by Pop Tarts.