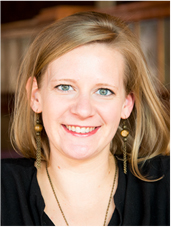 Megan Maxwell
Harry's Chief of Staff
Megan recently ascended to the position of Chief of Staff, which is no surprise to those around her. Her capable hands are a guiding force in all aspects of the organization, where she is instrumental in keeping multiple teams moving forward all of the time.
A self-starter, Megan is highly motivated by the endless opportunities a single day brings and has added great flexibility, understanding, and leadership to the management team.
It was easy to see Megan's star power when she first joined Harry's as a server in 2011. In 2013, Megan assumed leadership of Harry's DELI, while also serving as a Harry's dining room manager two nights a week. An accomplished chef in her own right, Megan completed a culinary internship at Tan-Tar-A Resort in Osage Beach, MO, where she perfected her skills in both service and the culinary profession. She immediately infused Harry's team with a great love of the diversity of restaurant life since her return.
Raised on great country cooking on her family's cattle farm in Northeast Kansas, she now prefers Korean food, thanks to her significant other. While she certainly enjoys fine dining, Megan is a self-proclaimed connoisseur of macaroni and cheese!