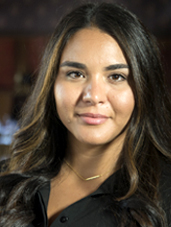 Amanda Caldas-Aslin
Assistant General Manager
The Harry's experience generally begins the moment diners enter the restaurant, and how fortunate we are to have Amanda's welcoming smile greet guests.
Amanda became a key member of the service team in 2010, and in 2014 she was selected as a member of Harry's bar and wine team. Her passion for detail, genuine disposition and sweet sense of humor are the perfect mix of leadership attributes for Harry's service team.
Amanda's winding path to Harry's traversed 11 hometowns - and an ocean. She has two bachelor degrees from K-State, one in political science and the other in international studies, and a master's degree in international relations with a focus in conflict resolution from the University of Edinburgh in Scotland. This highly educated history buff is also a shameless promoter of unsung American heroes.
As the best traveled member of Harry's leadership team, Amanda craves a good cocktail and the Peruvian, Bahian, and Italian cuisine her mother and grandmother prepared for her as a child.