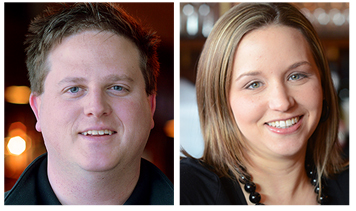 Evan & Andrea Grier
Managing Partners
Evan and Andrea Grier are the Founders and Operating Partners of One Egg Group, which operates three of the Manhattan community's beloved independent brands—Harry's Restaurant, Bourbon & Baker, and Tallgrass Tap House.
Evan is a native of Wichita, while Andrea is a native of Maryville, Missouri. Evan and Andrea are both graduates of the Kansas State University Hotel and Restaurant Management program. Harry's Restaurant was their favorite destination for fine food and service during their college years, making such an indelible impression the aspiring couple bought the restaurant in 2006. Thus, began their foray as professional restaurateurs and entrepreneurs. Under their leadership, the Harry's team has accelerated the brand's operating and customer service reputation to regional acclaim.
In 2013, together with their key leadership team, they created Bourbon & Baker as a new experiential restaurant concept centered around Midwestern and Southern small plates and accompanied with a full-service retail bakery. In 2017, they expanded their hospitality ventures assuming management operations of the existing Tallgrass Tap House, a full-service restaurant and microbrewery. In 2018, Andrea and Evan founded One Egg Group and established it as their professional restaurant management company. Over 13 years, their hospitality group has evolved from the single-unit owner-operator restaurant to a multi-unit restaurant management company that is poised for continued growth. Their current operations include three restaurant locations with 625 guest seats and 175 team members. The Griers credit their highly experienced and talented restaurant management teams with their success.