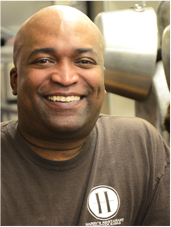 Cadell Bynum
Executive Chef
The refined flavors that make their way to patrons' plates are the creations of Executive Chef Cadell Bynum. The St. Louis, MO, native came to Manhattan to study architecture at Kansas State University, but his future changed in 1991 when he found his way into Harry's kitchen as a line cook. Just two years later – his culinary expertise proven – he was named head chef in 1993.
Under Cadell's leadership over the last 20-plus years, Harry's culinary team has been recognized in publications such as Travel & Leisure, Midwest Living, The Manhattan Mercury, the Junction City Daily Union and the Topeka Capital-Journal. He was recognized in the 2013 Best Chefs of America publication, and Harry's was voted one of OpenTable's Top 100 Restaurants in 2011 and OpenTable's Top 100 American Restaurants in 2011, 2012, 2013, 2014, 2015.
Cadell's other passion is the K-State Wildcats, as he is a season football ticket holder and lover of all things related to Wildcat Land. In his spare time, he cheers on his home teams, the St. Louis Cardinals and the Rams.