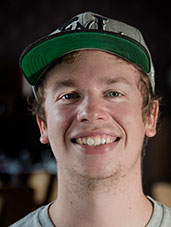 Aaron Wintermote
Sous Chef
Sous Chef Aaron Wintermote joined Harry's in the fall of 2012 as a dishwasher, and like so many members of Harry's team, K-State brought him to the area. With no prior restaurant experience, Aaron worked his way up to the position of second in command in just a little over four years.
Aaron's family moved frequently when he was young and these experiences shaped his ability to adapt and connect with people. He demonstrated a natural curiosity about food as a child and absorbed as much as possible from people who inspired him. His Mennonite heritage influenced his demand for excellence in the kitchen and it's also evident in the subtle German overtones in his culinary creations.
Today, Aaron finds inspiration from team members Executive Chef Cadell Bynum and Chef de Cuisine Zach Filbert. He is eager to progress in his role as Sous Chef at Harry's and hopes to, one day, make pizza as great as his Mom's.