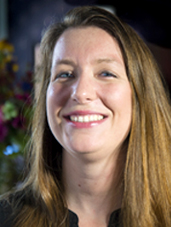 Megan Staley
Harry's DELI Manager
Since joining our baking team in 2013, Megan has served as lead baker, worked in Harry's kitchen and provided leadership in opening Bourbon & Baker full baking operation. With 11 years of experience under her bakers apron, this hospitality veteran has a secret ingredient: her warm and engaging smile is baked into each creation. As Harry's DELI Manager, Megan is delivering on all of the restaurant's signature traits - excellence and consistency in both the quality of food and service - while constantly improving operations.
Born in Excelsior Springs, MO, and raised in Ellsworth, KS, Megan earned a bachelor's degree in anthropology and a minor in American ethnic studies at K-State. She is fully trained to perform marine archaeological excavations, as well as lead a full line baking operation.
Megan's favorite foods are a super delicious muffin, locally produced fresh fruit, and her ultimate weakness is baked-to-perfection chocolate cake. When not in a commercial kitchen or at home in hers, Megan enjoys traveling and chasing her pups around, preferably with a warm muffin in hand.