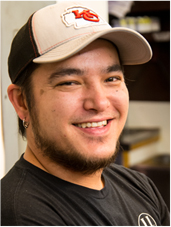 John Martin
Sous Chef
Immense responsibility comes with the position of sous chef. John joined Harry's in 2011 and quickly excelled. By 2013, John was elevated to second-in-command and is responsible for Harry's evening service planning, execution, and directing food preparation while mentoring new members of the culinary team and more.
For a period of time, John continued his culinary career at Silver Circle Brewery in Seattle, WA, before he found his way back to Manhattan. John has built a reputation centered around his attention to detail, high expectations, and a genuine care for his team and guests.
John is the only native Manhattanite on the leadership team and brings a tremendous sense of love for the community to work with him each day. His passion for cooking grew organically while preparing traditional Korean comfort food dishes with his mother, and the menu's Asian undertone is heavily influenced by John's pre-chef days.
When he's not carrying out his many responsibilities at Harry's, John enjoys exploring cookbooks and watching sports.